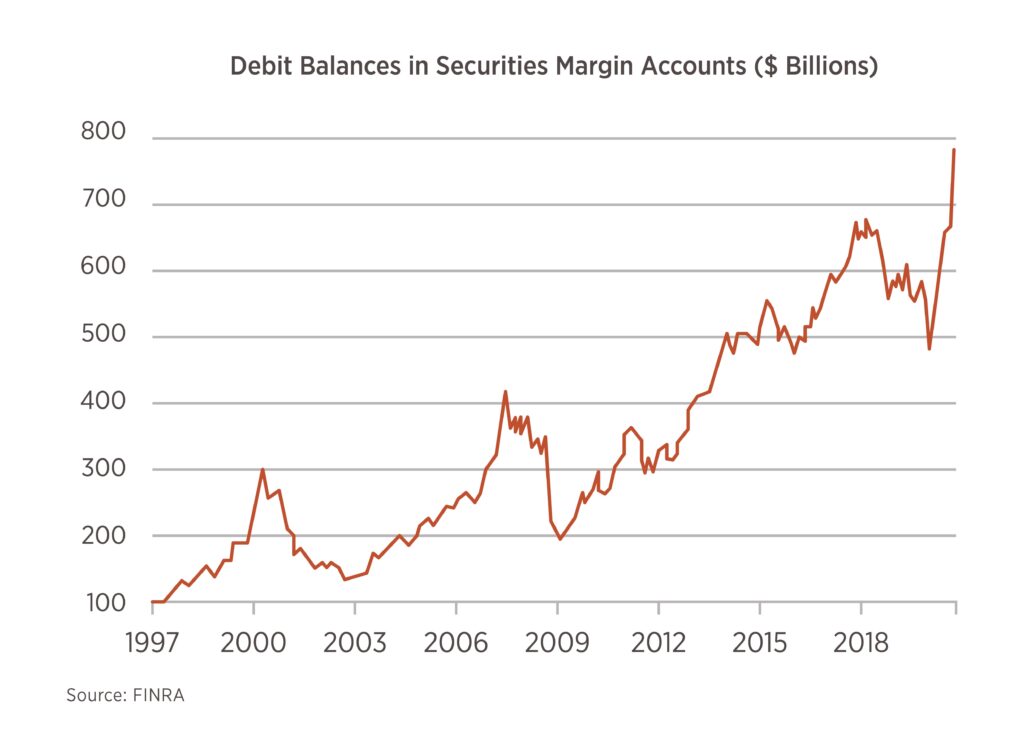 Chart of the Month
Amidst the market's strong start to 2021, there is debate over whether the gains reflect justified optimism for economic improvement or are just the result of rampant speculation. While we agree that there is much to be optimistic about, recent anecdotes of wild trading in companies such as Gamestop support the argument that speculation is increasing. One measure of potentially speculative activity is the level of margin debt in brokerage accounts. As shown in this month's chart, the value has tended to grow over time as the economy and market prices rise. However, periods of sharp acceleration in margin debt tend to signify an increase in speculative buying such as we saw leading up to market peaks in 2000, 2007, and 2018. To be clear, we do not expect market crises similar to those in 2000 or 2008 to immediately result from this. However, we do see the increase in speculative activity as an indicator that caution may be warranted, particularly when approaching areas of the market that are crowded or highly volatile.
Mailing Schedule: Form 1099 Tax Information
By January 31, 2021, Pershing will begin mailing Form 1099 tax statements. When you receive yours depends on the holdings in your account:
Phase One: January 31, 2021
Phase Two: February 15, 2021
Phase Three: February 28, 2021
Phase Four: March 15, 2021
Corrected 1099 Form will be mailed as needed. You may receive a corrected Form 1099. There are several reasons for this – for example, issuers of securities held in your account may provide updated or additional information after your Form 1099 is mailed to you. The IRS requires financial organiziations to send corrected forms with revised information as it becomes available.
Want quicker access to your Form 1099? Enroll in electronic deliver (eDelivery). Log in to your account to sign up for access or contact a member of our operations team for assistance at 316-776-4633.