Over the past few weeks, the MLP sector has seen a sharp pullback in share prices. Immediate causes include concerns over interest rates and a ruling from the Federal Energy Regulatory Commission that may impact the fees certain operators are able to charge on pipelines.
Alerian MLP Total Return Index – Last 12 Months                                        Source: Bloomberg

As a result, the valuation of MLPs is down to levels approaching early 2016 lows – when commodity prices were significantly lower and the ability of oil and gas producers to pay for their midstream commitments was in question.
Alerian MLP Total Return Index – EV / EBITDA                                              Source: Bloomberg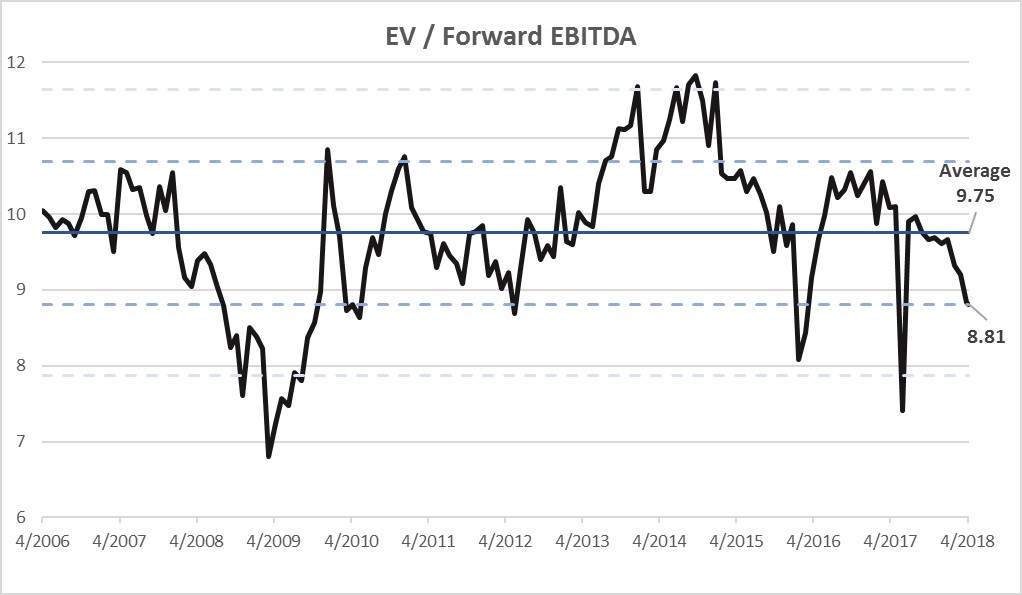 By contrast, current industry fundamentals are improving. EBITDA is expected to grow at a rate of more than 12% over the coming years as volumes increase. Stronger earnings will put more companies in the position to internally finance projects rather than issuing new debt and equity. This earnings improvement would also help the sustainability and growth potential of dividend payouts.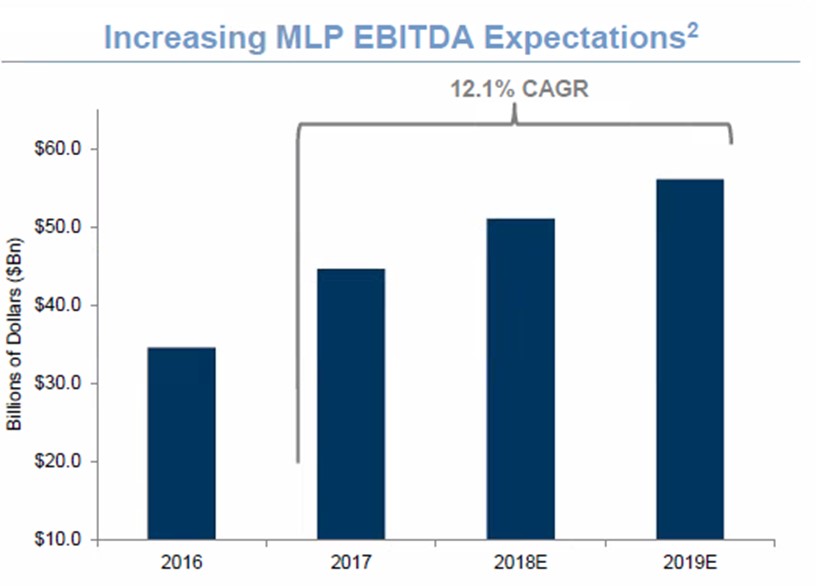 Source:  Bloomberg Consensus Expectations
We believe this represents a dislocation between fundamentals and valuations. Yields are attractive, and there is potential for capital appreciation should valuations revert toward historical norms. Risks relating to commodity price exposure, leverage, and regulation are ever present in the space. However, current valuations imply that those risks are now discounted more deeply than they have normally been in recent years.
6 Meridian provides links for your convenience to websites produced by other providers or industry related material.  Accessing websites through links directs you away from our website.  6 Meridian is not responsible for errors or omissions in the material on third party websites, and does not necessarily approve of or endorse the information provided.  Users who gain access to third party websites may be subject to the copyright or other restrictions on use imposed by those providers and assume responsibility and risk from use of those websites.
This commentary in this presentation reflects the personal opinions, viewpoints and analyses of the 6 Meridian employees providing such comments, and should not be regarded as a description of advisory services provided by 6 Meridian or performance returns of any 6 Meridian client. The views reflected in the commentary are subject to change at any time without notice. Nothing in this presentation constitutes investment advice, performance data or any recommendation that any particular security, portfolio of securities, transaction or investment strategy is suitable for any specific person. Any mention of a particular security and related performance data is not a recommendation to buy or sell that security. 6 Meridian manages its clients' accounts using a variety of investment techniques and strategies, which are not necessarily discussed in the commentary. Investments in securities involve the risk of loss. Past performance is no guarantee of future results.